Learn about what is recorded in Bizimply's shift log and how to set up and use daily task lists
In this article you will find out:
What is recorded in your shift log (customer feedback, employee issues, and accidents in the shift log).
How to set up daily task lists.
Using daily task lists.
What is Recorded in the Shift Log?
In your Shift log in Bizimply there is a heading called Issues. This is where you will be able to fill in your Employee Issues, Customer Feedback and Accidents.
Employee Issues:
In Employee Issues you can enter in any performance information on a staff member for the day. Whether they were late, did a great job that day or were sick. You can enter it in here and keep track of this information for future reference.
Customer Feedback:
In Customer Feedback you can enter in any complaints or positive feedback that may have been received by customers on that day.
Accidents:
We know how important it is to keep track of any employee/customer accidents in your business. The Accidents section is where you can do just that. You can enter all relevant information on the accident for future reference.
Daily Task Lists Setup
How to turn on task lists
Login to your Bizimply account (as an admin).
Click on your name/email in the top right-hand corner.
Select App Center from the drop down menu.
Choose Bizimply Labs in the categories on the left.
Find the "Daily Task Lists" App.
Click "Show" if not already installed.
Note: Shift Log must also be turned on here if not already done so as Daily Task lists will appear in that section.
While here it's best to click on the settings icon to start creating your task lists.
You will now see Daily Task Lists is enabled in the shift log section of your account.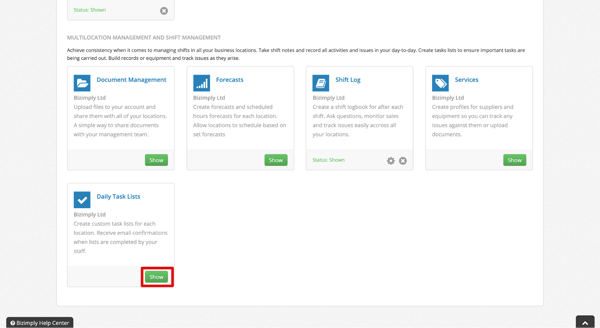 Creating a Task List
Go to the Daily Task List settings (via settings in app store or in companies shift log settings)
Click Create New List
Fill in the following details for the list:
Name - Name the list that you are creating (e.g. Cleaning List)
Description - To inform users of the details of this task list (e.g. A list to be completed daily by the cleaners to sign off on completed tasks)
Locations - Leave blank for all locations or select the specific locations it is applicable to (e.g. All Locations)
Email Recipients - These are the addresses of those you wish notified when a list is complete (e.g. you@yourbusiness.com)
Choose "Add Question" to add the tasks in your list:
Name the task.
Select if the task is required to be answered.
Select Save to add that task.
Repeat above for every question on the task list.
Select "Save" to save the complete list.
Your task list should now be listed and will appear in the shift log, you can also edit a task list if required using the pencil edit icon button.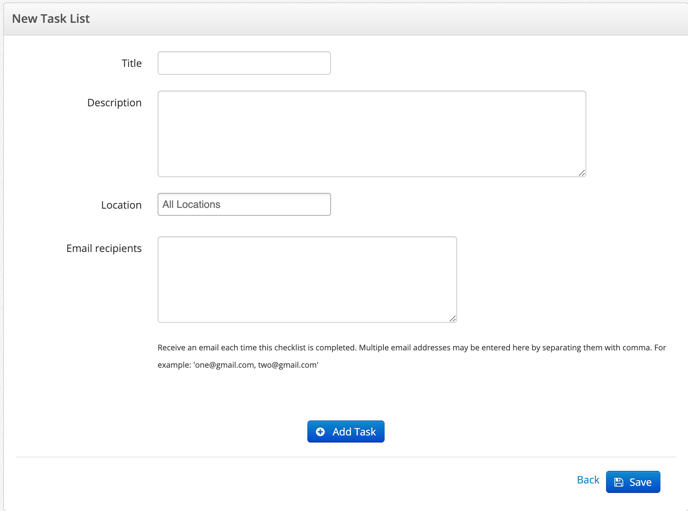 Using Daily Task Lists
We know there are many daily tasks in bars, restaurants and stores that are carried out daily. These are usually required to be completed by staff and/or managers for accountability so we built in functionality to bring this aspect of your business online. This is incorporated into the shift log.
How Task Lists Work
Log into your account with the correct permissions
Go to the shift log tab
Click task lists on the left hand side
Select from the list the one which you wish input by clicking "Start" or "Resume"
For each task:
Yes - for those completed
No - for those not to be done
Leave unticked - for those yet to be completed (You can save updates and edit the list again)
You can also add a comment to the task list at the bottom
Choose "Save" if you want to save your updates but not to complete the list
Choose "Finish and Close" if you want to sign off that the list is completed.
All required tasks need to be answered before a task list can be finished.
You can review a task list after completion and see who signed off on the task, when and any comment on the list.