Learn how to use time off tracking on Bizimply, enable it for your account and how to mark time off as paid or unpaid
In this article you will find out:
How to use time off tracking.
How to enable time off tracking on your account.
How to mark time off as paid or unpaid.
Using Time Off Tracking and creating a record
Time off records are created on the employee profile. Here you can build up a history of employee time off, what was paid or unpaid and any reasons for the time off.
To start, just follow the steps below:
Go to the employee's profile
Click on the time off tab in their profile
Click on the blue "Add Time Off" button
Set a time off type
Choose a date range or you can set a part day record
Confirm the details for each day (hours, type) and choose to include the day or not in the time off
Choose to leave a comment on the record (e.g. reason for the time off)
Choose if the time off should be visible on the schedule (to avoid scheduling them, this will be shown as a "Time Off" shift)
Select if the time off should be included on the Timecards (to bring through the hours either PTO or Sick, you will also see the type of record for that day on the timecard)
Choose to Approve and Save the record or just to save and come back to approve it later. (Unapproved records will not be seen elsewhere)
When approved, you will have the option to notify the employee via email, and if you do decide to inform them you can also include a message.
Time Off on the schedule:
​

​
If selected, time off will be shown on the schedule like the image above. Your team will know that the employee is unable to work and know not to schedule them for shifts on those days. Time off cannot be edited or changed on the schedule.
Time Off on the timecards:
​

​
If selected, paid time off will be shown on the employee timecard. Notice that the hours for a time off record automatically go into the "PTO" section at the bottom of the timecards or into the "Sick" section for a sick record.
Enabling Time Off Tracking in your Account
To use this functionality you must have time off tracking enabled in your account. Only administrators can apply this to the account.
To turn on this feature please follow the steps outlined below:
Login to your Bizimply account (as an admin)
Click on your name/email in the top right-hand corner
Select App Center from the drop down menu
Choose Bizimply Labs in the categories on the left
Find the Time Off Tracking App
Click "Get" if not already installed
While here it's best to click on the options icon and set the default hours for a day off in your account
You will now see Time Off Tracking is enabled in your account and that the time off tab is now visible in employee profiles.
Mark Time Off as Paid/Unpaid
When creating a time off record for an employee, all days will automatically be marked as paid in their record. To mark all days as unpaid, simple select the dropdown beside the date picker and mark as unpaid.
This is a real time saver when an employee is taking a large number of days or weeks off.
​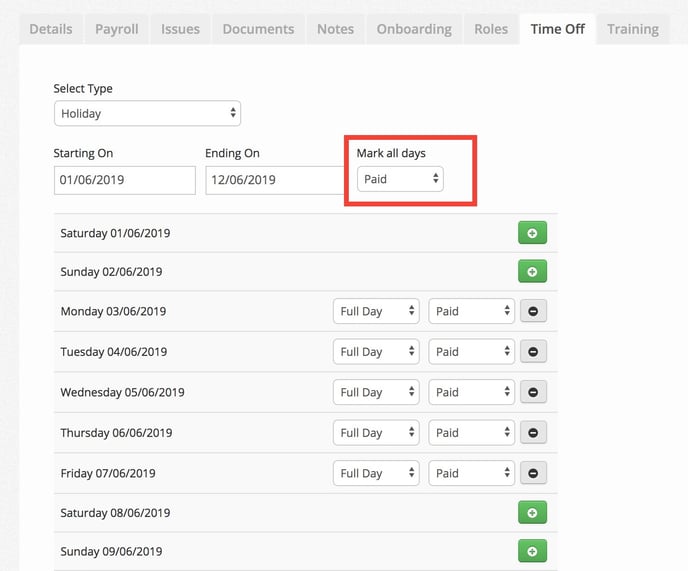 ​
To create a record with a mix of paid and unpaid, simply adjust each individual day accordingly.