How to use Bizimply reports to import information into Thesaurus
The employee numbers in Bizimply must match the work numbers set in Thesaurus in order to link the two profiles correctly.
Getting the Timecards Report
Go to the 'Timecards' tab of your account
Navigate to the correct week (Please double check that all timecards have been approved and are correct)
Click "Export"
From the drop down menu choose "All Timecards"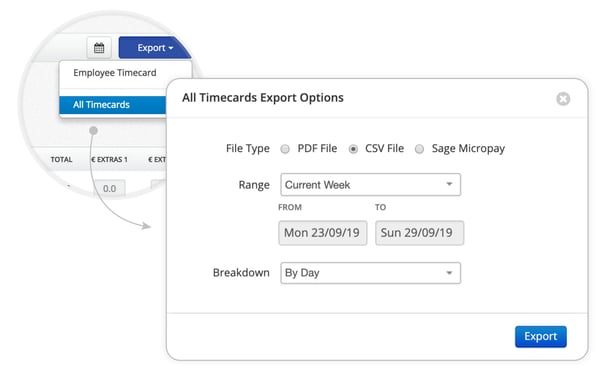 Select the CSV File option
Double check the date range is correct
Click the "Export" button
Open this file, you will need to alter the file to make it compatible with Thesaurus.
Remove the unwanted columns so that the columns are as below.
Column A: Employee number (To match works number in Thesaurus)
Column B: Standard hours
Column C: Time and 1/2 hours
Column D: Double Time hours
Column E: Time and 1/3 hours
Column F: Other

Note: Columns required may differ from those in example above
Save the file once in the correct layout
Importing into Thesaurus Payroll
Open Thesaurus
Choose Utilities in the toolbar menu
Select import hours in the drop down menu
Chose from CSV from the options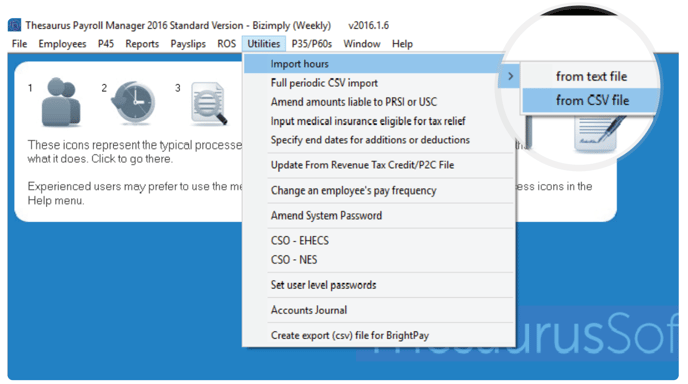 Click locate file and navigate to the file previously saved and open it
You will see the file populate the preview section
Click on Validate file
Select import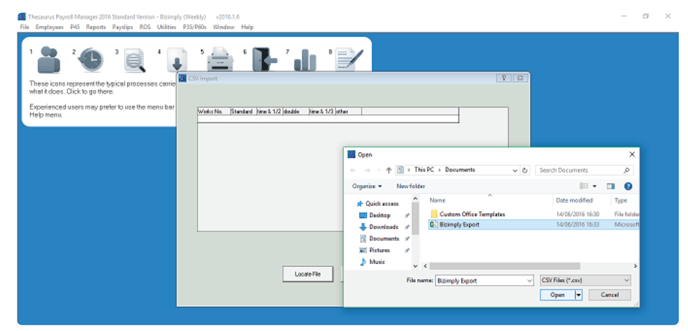 Note: Thesaurus deletes the file on import so you may wish to save a copy and if the file is open in another application when importing you may get an error
Always double check that the hours have been imported correctly after this process.