How to import employee information in bulk as a new admin
Check out this quick video on how to import employee information in bulk!
Walkthrough:
When setting up your account for the first time, a quick and easy way to fill your locations with employee information is by uploading it all in one go using a CSV file containing relevant details about your staff.
The most important step in this process is to make sure that the employee information is in the correct format before the upload - You can do this by downloading our Sample CSV File.
Once this is downloaded, carefully enter the employee information under the correct columns in the file. Please note that the upload must be in CSV format.
When you have finished inputting your employee information you can then upload the file to your Bizimply account.
To do this:
Login to app.Bizimply.com.
Click on your name/email in the top right of the screen > Settings.
Select Import Employees from the Employees dropdown.
Select import type > File Upload.
Select your location.
Choose file and press 'Import'.
The file upload may take a few minutes!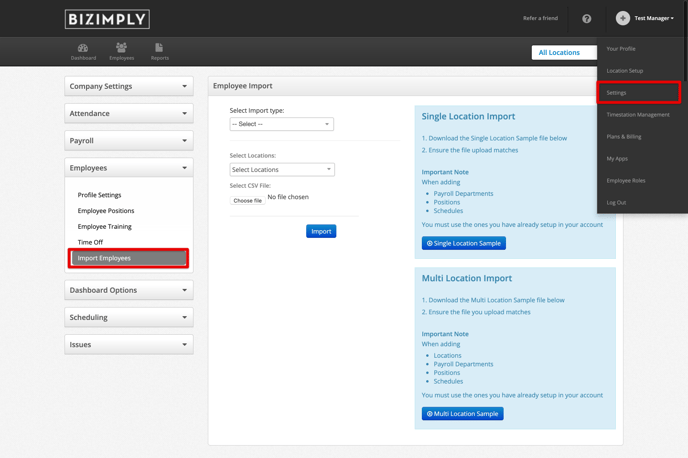 Once your upload is complete, you will be able to view all your employees along with their details by going to the Employees module in the location.