All you need to know about managing schedules for employees and sharing it with them
In this article, you will find out:
How to send the full schedule to your employees.
How to schedule minimum and maximum hours for an employee.
How to add an employee to a schedule.
How employees can see their schedules.
How to order employees on the schedule.
Why your employees may not be appearing on the schedule.
How to Send the Full Schedule to Your Employees?
To send the full schedule to your employees, simply download the PDF schedule and then attach it when publishing.
Here is a step-by-step guide for how to download a PDF schedule:
Build your schedule
Select 'Actions' in the top right hand corner
Select 'Export PDF' in the dropdown menu
Choose the schedules you want to add to the pdf
Hit 'Save as PDF'
You now have a copy of the full schedule on your device.
​

​
Hit 'Publish'.
Hit 'Attach Documents'.
Select the schedule pdf you exported.
Hit 'Send'.
​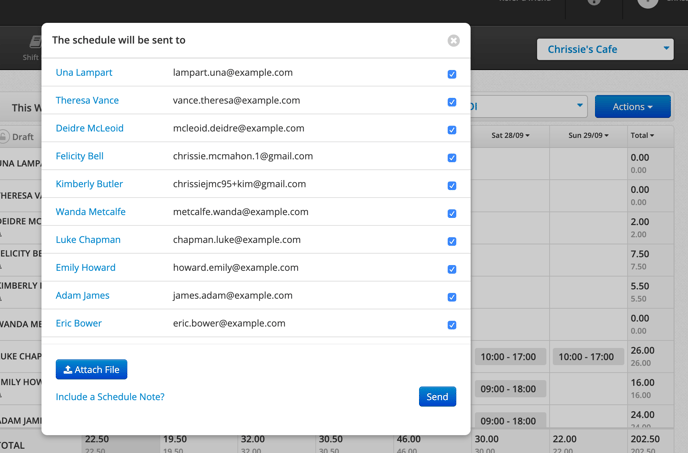 ​
Your employees will now receive a copy of the full schedule when they receive their schedule email.
How to Schedule Minimum & Maximum Hours for an Employee?
You can add maximum and minimum working hours for your employees. To view these requirements, there is a 'Compliance' section within the schedule to ensure that all employees hours are scheduled correctly.
This information can be entered into an employees' profile under the 'Payroll' section.
As you can see, you can set the employees' contracted hours on their profile which also includes the ability to add maximum daily hours.
​​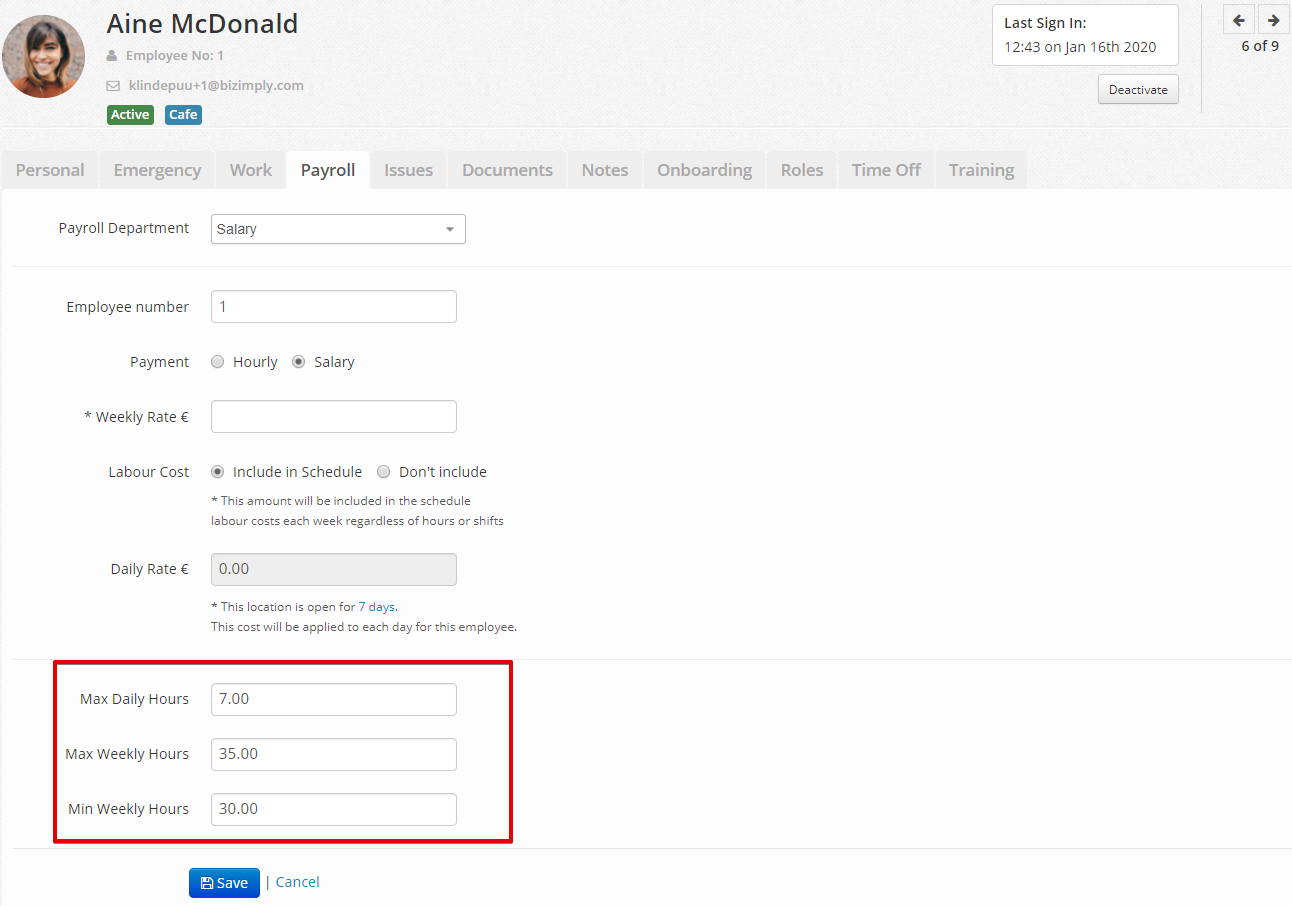 Once you have entered these figures into an employees' profile, there is a 'Compliance Check' function within the schedule to check and make sure that the employees who have this information entered have their hours met.
​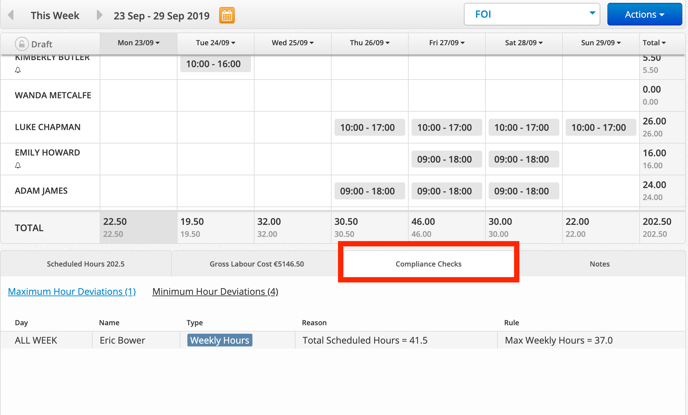 ​
If there are any discrepancies in what has been scheduled against an employees min or max hours they will appear here, which will make it easier to rectify any scheduling issues.
How to Add an Employee to a Schedule?
For an employee to show on a rota, the schedule must first be applied to the employee's profile.
To do this:
Login to app.Bizimply.com
Go to the 'Employees' tab.
Find the employee in question.
Scroll down to the 'Schedules' option and click the blank area to the right. A dropdown of your schedules will now appear.
Select the schedule(s) you would like this employee to appear on.
Hit 'Save'.
You will now see this employee appear on the schedule(s) you have selected.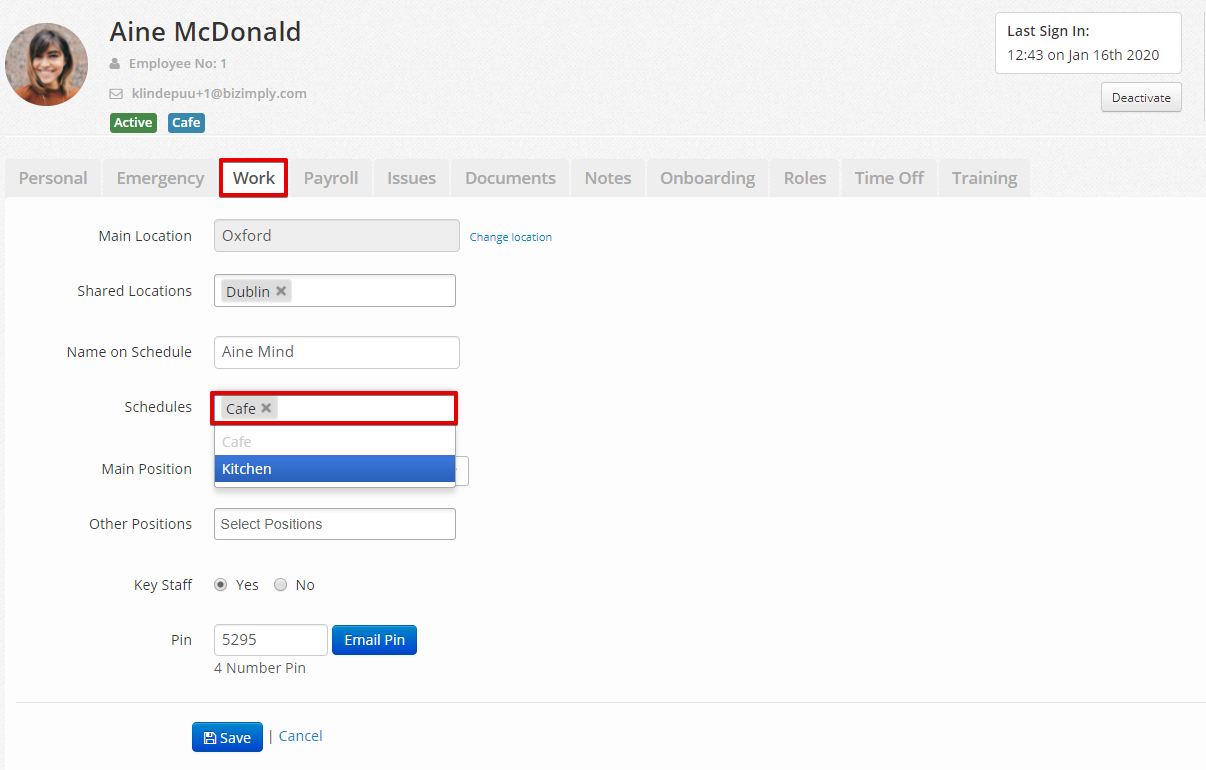 How Employees Can See Their Schedule?
Employees can see their hours for the week in a number of ways with Bizimply.
Via email - All staff receive an email of their own individual rota when it is published unless they have been manually excluded. See an example of the email below:
Online with their Bizimply login in their own employee section. See image below:
Via the MyZimply mobile app with their Bizimply login, which is available on the Apple App Store and Google Play.
How to order employees on the schedule?
You may wish to list your employees in a certain order on your roster. For instance, your management team may be listed at the top and new starters are listed at the bottom or it can even help to group staff who work in the same area together. In Bizimply, this can easily be done and updated with a simple click and drag.
Instructions:
Go to the scheduling section of your Bizimply account
Make sure you are on an unlocked schedule
Click and hold on the employee's name you wish to move
Drag the employee up or down the schedule
Release where you wish to place the staff member in the list
Why are your employees not appearing on your schedule?
If you cannot find your employee listed on the schedule, please check the following:
Are they active?
They will be listed with the active employees within the employee tab.
Are they still on selected to be on that schedule in their profile?
Check the list of schedules selected for them to appear in the details tab of their employee profile.
Do they have a future start date on their profile?
Check if they have a start date in the details tab of their profile. If this start date is in the future the employee will not be shown on the schedule until that date.
Any three of these reasons would cause an employee not to show up on the schedule.