Learn how to add a position and colour to a shift or label a shift with a name
Adding a New Position
Please note you must be an admin on the account to do this.
Follow these steps to add a new position:
Login to Bizimply online.
Click on your name/email in the top right.
Select 'Settings' from the dropdown.
Employees > Employee Positions.
Click 'Add New Position'.
To apply your newly created position to an employee's profile: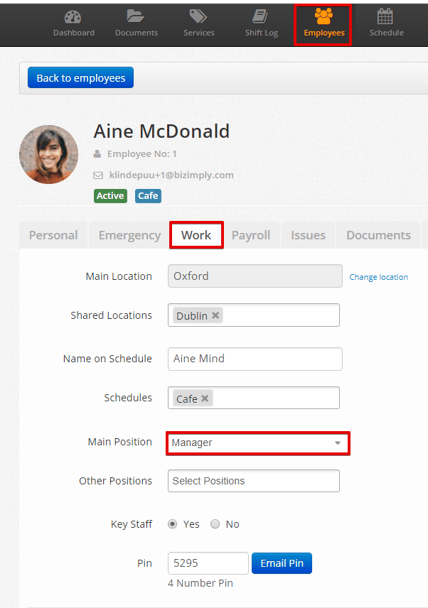 Go to the Employees tab.
Find the employee in question.
Go to the Work tab in their profile.
Scroll down to Main Position and click the empty box.
You can also enter Other Positions if your staff have more than one position.
How can I label a shift with a name?
Sometimes you will want to have a shift that is displayed in text rather than time. You can do this by setting up a shift name in your settings.
To do this please follow the steps below:
Login to your account
(You need to have admin level of access on the account)
Click on your name/email in the top right-hand corner
Select 'Settings' from the drop down menu
Choose the Scheduling sub category to the left.
Pick shift names from the options listed
Click on the blue '+ New Name' button
Name the shift title (Note: max 5 characters) - e.g. open, close, trial
Click save
Now that option is available to select as the shift name or label.
Adding your new shift to your schedule:
Follow these steps:
Go to the schedule tab > Popular shifts.
Click the pen symbol to create a new popular shift.
Click the blue + New Shift.
A handy tip to make sure this shift shows at the top of your popular shift list is to enter in a start time that is earlier than the rest of your popular shifts. For eg. 5am. Then enter the end time for half an hour later. For eg. 5am - 5.30am.
Don't enter in an Unpaid break and select No for the question 'Should the total hours for this shift be included in the scheduled hours?'
The Start Time and End Time can appear as a time, blank or as a shift name you have created.
In my example below you will see my new shift as TRIAL. So I have set the Start Time as Trial and the End Time as Blank.
Please Note: If the shift you have created has two words, for example On Call. Simply add "On" and "Call" as separate shift names in the Settings and set the Start Time as On and the End Time as Call.