Learn how to attach a document to a schedule email, configure schedule permissions, create/add more schedules, and how public holidays work in Bizimply
Scheduling FAQs
In this article, you will find out:
How to attach a document to a schedule email.
How to configure schedule permissions.
How to create more schedules.
How to turn on and add more schedules.
How Public Holidays work in Bizimply.
Attaching a document to the schedule email
Attaching a document to your schedule email is a good way to share the full schedule, break information, menu's etc to all your employees on that schedule.
To do so:
Build your schedule
Hit "Actions > Publish
Hit "Attach File"
Hit Send
All employees on this schedule will now receive this attachment in their schedule email.
​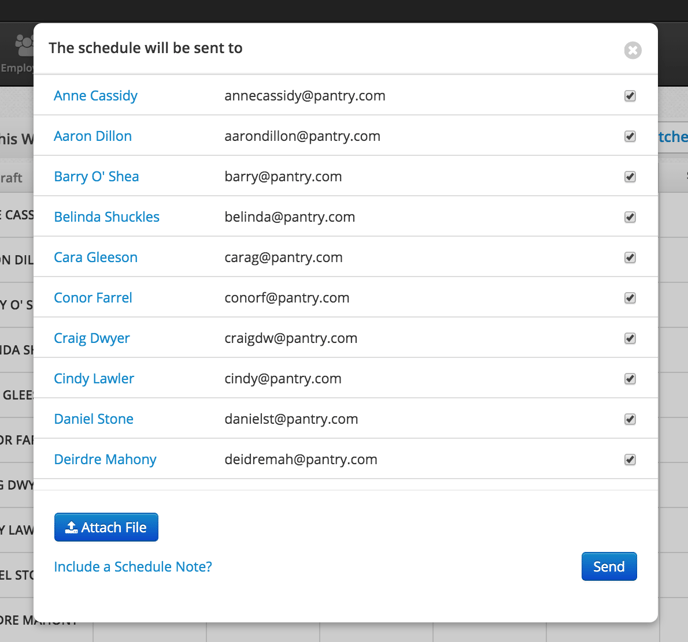 ​
Note: You can also email documents to a large group of employees from the employee list when you hit "Actions > Send Email Message > Attach"
​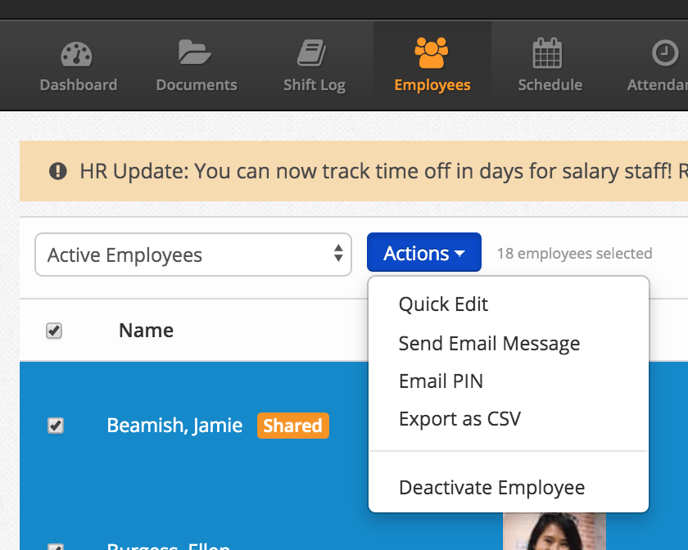 ​
Schedule Permissions
Go to the menu in the top right hand corner
Select Employee Roles
Choose the role you want to edit
Select schedule options
Select to dropdown menu and choose the schedule you would like this role to access
​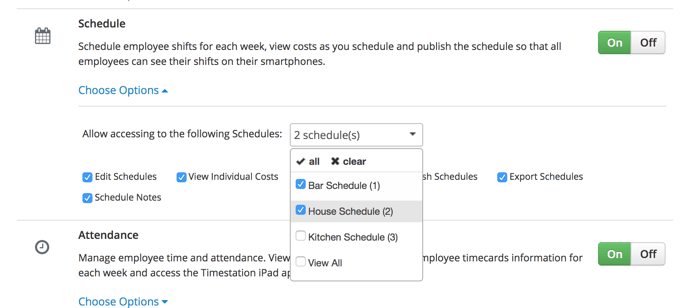 ​
The employee with this role will have all the permissions ticked under schedule - but only for the ones chosen in this dropdown menu.
Can I create more schedules?
More schedules can be created, but please note that you must have admin level of access in order to do so.
Log into your account app.bizimply.com
Click on your name/email in the top right-hand corner
Select 'Settings' from the drop down menu
On the left-hand expand out the scheduling section.
Choose 'Schedules' from the menu.

Create a new schedule using the blue add schedule button.
Input a name for this rota.
Click save.
Here you can also change the names of the current schedules using the orange button with the pencil icon.
Update the name.
Click save.
Turning on/off schedules
In Bizimply it is possible to turn schedules on or off in particular locations. It could be that there is no need for a schedule called "Kitchen" in a location where they don't serve food but this is required for another location as they do.
This ability can also throw up questions like "I used to have a schedule listed but I can no longer find it" but also helps in cases where a manager might ask "I don't need this schedule, how can I remove it?"
Instructions:
Go to the schedule section of your location
Check the drop down list of schedules that are currently on in your location
Click on the orange options icon beside the location name
It will bring you to a section that you can turn on and off listed schedules
If you require one to be added, this ability is restricted to admins, see related articles.
If you go back to the schedule section of your account you will be able to see the listed schedules has updated with the changes you made
How Public Holidays work in Bizimply
You can select a day to be a bank holiday in the schedule by clicking on the day in the schedule and choosing "Public Holiday". You will notice the day to be highlighted differently as seen in the image below. This would need to be done per location.
What does this mean?
Once a day is set as a Public Holiday in the schedule, it will show all selected paid times for that day in the employee timecards to be included in the P.Hol (Public Holiday) column of the report, and not count as regular hours.
This allows for an easier way of applying a premium rate for staff who happen to work that day.
Please note those who are owed a day in lieu for the public holiday should be handled separately. Always make sure to contact your payroll department to check what's the best way to handle these.