How to send PINs to staff, troubleshooting a shared employee's PIN, forgotten/changing password, how to sign into an employee account, iPad troubleshooting and auto log-out settings.
In this article you will find out:
How to change your password.
What to do if you've forgotten your password.
How to send PIN numbers to your staff.
What to do if a shared employee's PIN isn't working.
How to sign into an employee account on Bizimply.
What to do if your iPad has been disabled.
How auto logout settings work.
How to Change my Password
You can change your password while logged into the account rather than use the forgot my password option on the login screen.
Please follow the instructions below:
Click on your name/email in the top right hand corner
Select Your Profile from the drop down menu
Choose password in the list to the left
Enter in your current password in the appropriate section
Enter in your new password in the appropriate section
Click the save button

You will now be able to login with your email address and new password.
How to Change my Password
If you see a warning after clicking the link, you can be sent a password reset by clicking here or using the 'forgot my password' option on the login page.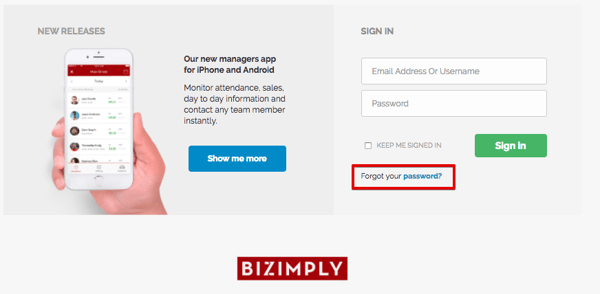 This will bring you to a page where you will be asked to enter in your email address to send a password reset link to you via email.
The link will allow you to set a new password for your login. Please note this link will only work for 48 hours, for security reasons.
Once you have reset your password you will be logged into your account and can access Bizimply as normal. In future you will login with your email address and the new password you have created.
We would suggest updating your password on a regular basis.
Sending out Staff Their PIN Numbers
You can send out an email message to notify staff of their PIN's for clocking in and out. This can be done for one employee, a group of selected employees or all at once. This can be very useful for getting up and running with Bizimply and informing staff of their 4 digit code to use at the Timestation.
Instructions:
Log in to your Bizimply account
Go to the Employee tab
Highlight the employees you wish to send the message to by ticking the appropriate box
Choose the blue actions button at the top
Select "Email PIN" from the drop down list
A pop-up will appear to confirm the action
Click "Yes" to the message out to your staff
A confirmation box will appear that the action has been completed.
You can also send an employee their PIN in their employee profile with the "Email PIN" button seen beside their PIN. If you are updating a PIN number please be sure to save the change prior to clicking this button.
My Shared Employee's PIN isn't Working
Sometimes when you have created a new employee and shared them across to other locations, their PIN doesn't work when they try to clock in on the Timestation.

Why is this?
As this employee is new, there will need to be action on the Timestation (an employee clocking in/out) in the shared locations before their first clock in for their PIN to work.
The employee will need to have a PIN number entered into their employee profile in each location. This can be the same PIN, once it hasn't been taken by another employee in that location.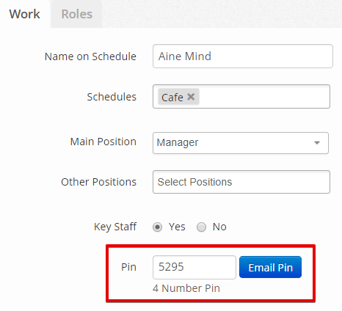 If the employee is still having issues clocking in/out, please contact Bizimply on Support@Bizimply.com.
Signing Into an Employee Account on Bizimply
As an employee of a business who uses Bizimply, you can log into your own account on the Bizimply log-in page or else download the MyZimply app on the Apple Store / Play Store.
When your details are first input into the system by your employer, you will receive an email inviting you to create a password for your brand new account. The email will look something like this. Press the blue button saying "Login To My Account" in order to set up a Password and sign into your account.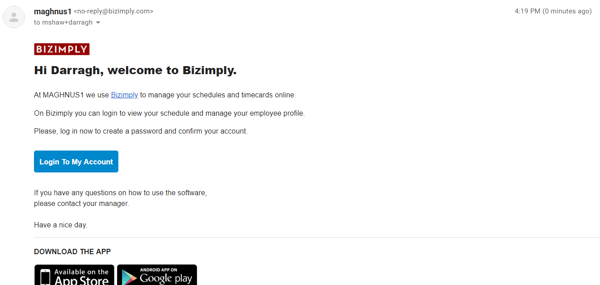 That button will bring you to the following menu where you will be asked to create a strong password.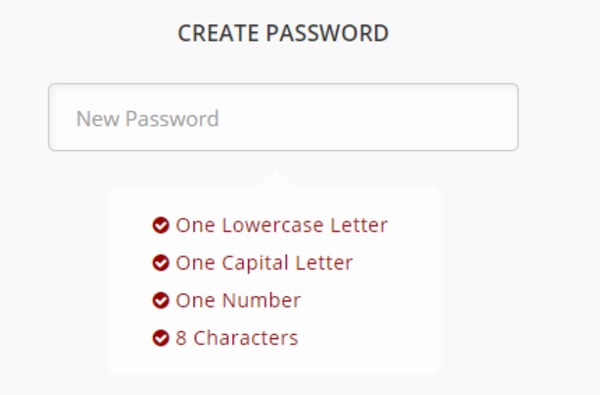 If you are a regular employee, you will then be able to access your own employee profile. If however, you have been given a Role such as a supervisor or manager, the following menu will appear giving you access to either your personal account or your Manager's account.
Signing into the personal "Employee Portal", you will be able to see your work schedule and personal details. Under the "Tools" icon you can export your work schedule as a PDF.
As well as appearing on your Employee Portal you will be emailed when your Work Schedule is Published, or if any changes in your profile/the roles you've been given change.
For quick, mobile access to your Employee Portal, download the MyZimply app on the AppleStore or PlayStore.
My iPad has Been Disabled
If you enter an incorrect password too many times, iOS will think someone is trying to break into your device and will disable it.
As this is an Apple issue and not a Bizimply issue there is nothing we can do on our end except give you directions from the Apple website.
Below are some useful articles which should help you correct the problem:
Auto Log-out Setting
As a default setting, Bizimply will auto-logout a user out after 24 hrs of being inactive. This is for security reasons as should a user forget to log out, anyone with access to the computer they are signed-in on can misuse their account and steal sensitive information.
Here at Bizimply, we know that 24 hrs is still a very long time. Many businesses have policies ensuring their information is kept safe, which deem this unacceptable. For this reason we have a customising option that enables a user to set their own time limit on how long an user's account can stay logged-in while the user is inactive.
Instructions on how to customise Auto Logout Settings;
Log into Bizimply as an admin
Select your name/email in the right hand corner and choose "Settings" from the drop down menu
Choose "Company Settings" from the left-hand tab and Scroll down to the bottom of the page
Here you will see the Auto Logout settings. There are set to 24 hrs as a default. You can choose to turn this setting off. Note; We warn against turning this feature off for security reasons.
You can edit the period of time in which the account will be allowed to stay signed in while the user is inactive. You can choose the following options:
Once this setting is saved, the system will log-out after the new chosen time.
When only 60 seconds are left before the system will automatically log-out, a small warning will appear. It will contain a timer of how many seconds are left before the user to signed out and also a small "Stay Active" button which will override this function.
Should your account be automatically logged out, your email will already be input into the sign-in box meaning all you must do is fill in your password in order to regain access to Bizimply.
Why is Auto Logging-out important?
An Auto Log-out feature is incredibly important for the security of a business' information. Admins are human, and so mistakes can be made and sometimes they might forget to log out of the Employee Portal web app. With auto logout, when this happens, there will only be a small time frame in which unauthorised individuals will be able to gain access to the system. Without the auto logout feature, anyone can access the system at any time as long as the account is still signed. The feature gives some reassurance that when human mistakes happen, the possibility of a breach in security is minimised.