How to set up time off requests in your account
Turn on the App
Time Off Requests are available from "My Apps" which is the app centre available to the account admin. To make sure the app is turned on in your account, an admin must go to "My Apps" and turn it on.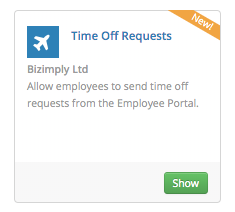 Go to Settings
Go to the menu in the top right hand corner
Go to settings > employee settings > time off
Select the number of days in advance you need your managers to receive requests
Choose whether or not you would like your employees to see their time off balances in the employee portal
Select "Save"

Top Tip:
Download this help article and email it to your employees explaining how they can request time off. You can do this in Bizimply by either attaching it to a bulk email or attaching it to the next schedule you send out!