Learn more about what training options and documents are available on Bizimply's Web-app
Training Cards
Training records appear in the order they were completed, with the most recent completed appearing first in the list.
​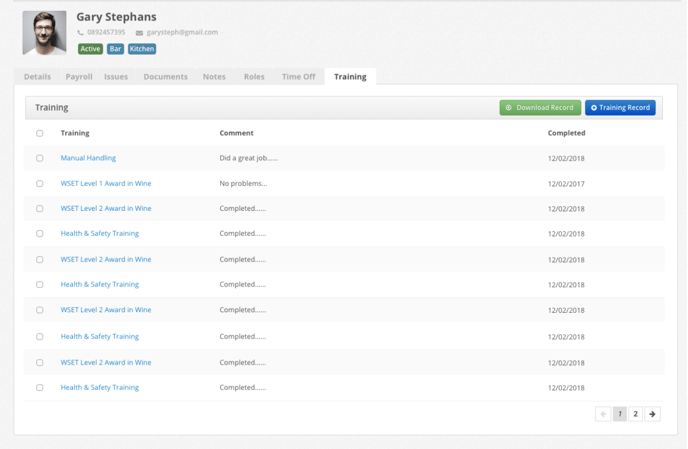 ​
Bulk select allows you to delete or download the PDF.
​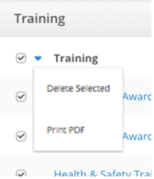 ​
How to add a Training Record in an employee profile.
​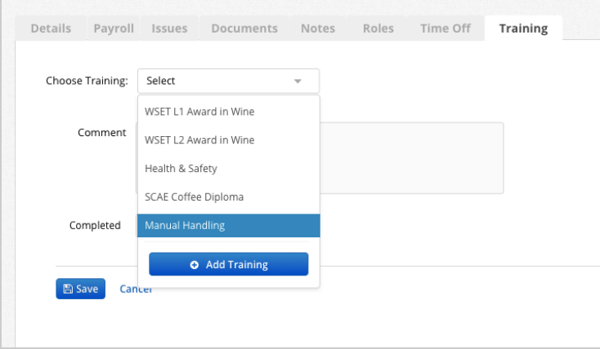 ​
Go to the employee profile in question.
Go to the Training tab.
Select +Training Record.
Training type is chosen from the dropdown which contains the description added in settings.
Training type and date are required fields and will be outlined in red with the text "cannot be blank", if left empty on save.
Once the training type is chosen, the description, as defined in settings appears.
For admins only: The drop down contains a hyperlink to Settings: Employee Training.
Useful points:
Existing training records can be edited or deleted.
If it is edited, the changes will be saved with a timestamp eg. "last edited by example@bizimply.com 01/02/2018".
Deleting a record will delete the record permanently.
Employee Tab: Bulk Add Training
To bulk add training to your employee profiles:
Login to Bizimply online.
Go to the Employees tab.
Select the employees you wish to add the training to. If you wish to add the training to all employee profiles, click the empty box to the left of Name.
Click Actions > Quick Edit > Training.
​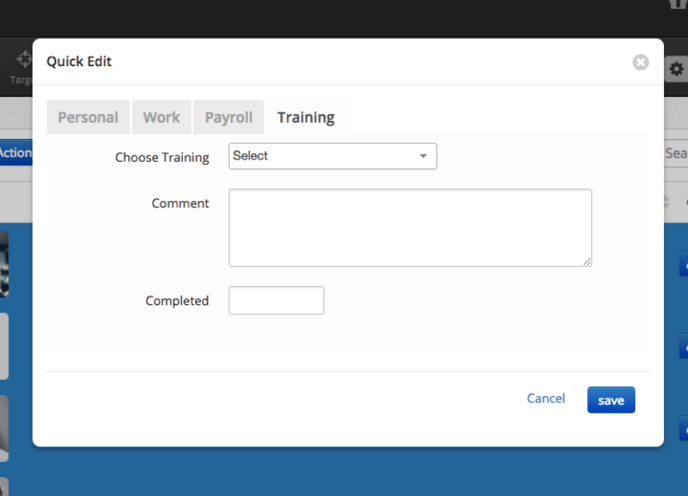 ​
Choose the training and save.
Employee Training Types
For admins only
Training records is a tab on the employee profile where records of training types completed by an employee can be created, stored and downloaded. The training record types will be created under employee settings.
To create a new Training Type:
You must be an admin to do this.
Login to Bizimply online.
Click on your name/email in the top right.
Go to Settings > Employees > Employee Training.
​

​
Here you will be able to view Active and Inactive Employee Training.
4. Click +Training Type.
​

​
All training types are connected to records created in employee profiles. Therefore deleting and editing training types will affect existing records.
How to Edit current Training Types:
Click into the Training in question.
Click 'Edit' - The fields will be disabled until you click 'Edit'.
​

​
When you try to edit or deactivate a Training Type you might receive the pop ups below:
​

​
Deactivate will send the training type to the inactive tab, where it can be either deleted permanently or reactivated. If it is deactivated, historic records still appear on an employee profile tab. It just means that the training type will not be available to add to an employee record going forward.
​

​
Reactivate moves the item to the active tab in settings and is available again to add to employee records .
​

​
Delete will link you to a new page explaining the implications and requiring the user to type the word "DELETE".
​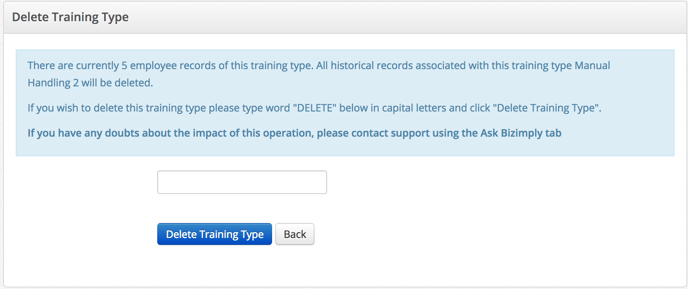 ​