Learn more about what information about employees can be found on the Web-app
Employee Notifications
The Employee Notifications is a feature which will allow you to be notified of the following within the next 7 days:
Birthdays
Anniversaries
Visa Expiry
Passport Expiry
How to switch on the Employee Notifications Widget
Please note, you will need to be an admin on the account to do this.
Login to Bizimply online.
Click your name/email in the top right.
Select Settings > Dashboard Options > Dashboard Items.
Switch Employee Notifications on.
The Dashboard Widget
Appears beneath Attendance and above Engagement Widget
Always showing the next 7 days, starting with the current day first in the list
Birthdays and Anniversaries will live for 7 days in the widget
Expiries will live for 7 days unless they are updated in the profile
If a visa or passport field is empty in a profile, no notification will appear
The total number "9" counts how many are in the list
The employee's name will link to the employee profile details tab
It will exist on the all locations dashboard
How do I change an employee's pay rate?
In order to get an accurate forecast and predicted cost from Bizimply you will need to make sure all the pay rates in your account are up to date. You must be in an employee's main profile to add a pay rate.
You can add a pay rate, be it hourly or salary, to the employee's profile in the payroll tab. See pictured below:
​​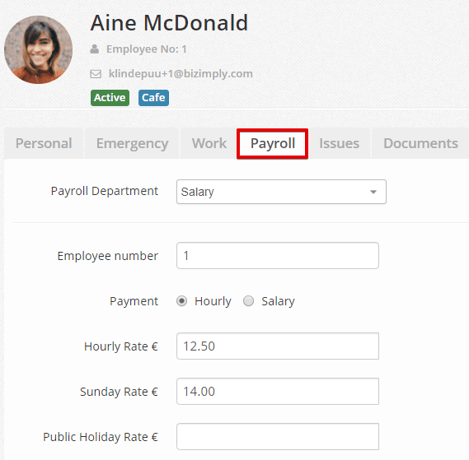 If you are unable to see this section this is due to your permissions, and you may require someone with the appropriate level of permissions to input the updated pay rate. If you require access to this section please ask an administrator to edit your privileges.
Pending Actions
The Pending Actions Widget was designed so that important updates to the system aren't forgotten about by the admin. "Actions" that show up in this widget would be things like Visa & Passport Expiry and Time off Requests that have yet to be approved.
This is what the widget looks like when there are NO outstanding actions to be done and when there ARE outstanding actions to be completed;
​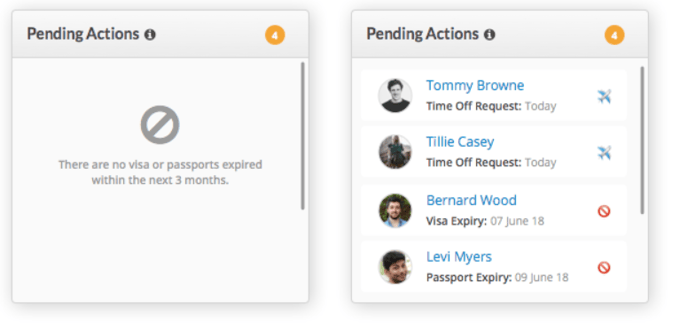 ​
Passport & Visa Expiry dates appear in this widget from 3 months before they expire and do not disappear from the widget until the date in the employee's profile has been updated.
Of course as with all features in Bizimply, you can grant access to this feature to employees who have been designated with a Role. In this way you can delegate these actions to Managers.
Instructions on how to grant access to Managers for this feature;
Log into Bizimply as an admin
Select your name/email in the right hand corner and select "Roles" from the drop down menu
​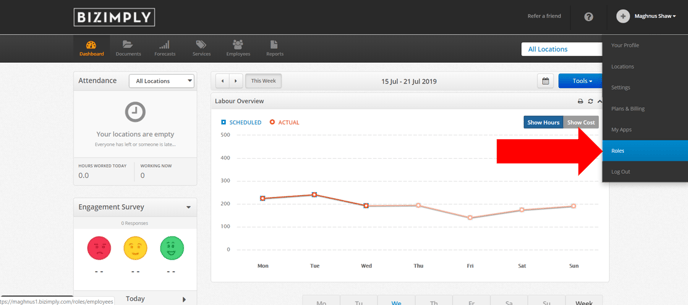 ​
Choose the Role in which you would like to grant access to the Pending Actions widget.
​

​
Scroll down to the permissions and select the box beside "Pending Actions" under Dashboard permissions.
​

​
Note: under Employee settings, the Role must also have "View Personal Details" selected in order to see Visa & Passport Expiry.

​
Save the changes made and this feature will appear on your Manager's Employee Portal.