How do I Deactivate an Employee?
Go to your employee profile

Select the "De-activate" button on the right hand side of their profile header

Fill out the reasons in the popover and hit Save
All de-activated employees still have a profile in Bizimply. To find them:
Go the employees list view
Select the menu in the top left hand corner
Select "Inactive Employees"
Note: You can open an inactive profile and de-activate if you re-hire this employee.
How do I Delete an Employee?
If you wish to delete an employee you must contact the Bizimply team on support@bizimply.com.
Before you request to delete an employee, please understand that all current and historical information associated with this employee will be deleted.
This will include:
Documents
Notes
Issues
Time off
Attendance
Payroll information
To comply with GDPR regulations, this information will not be stored in the background and therefore we will be unable to retrieve this information. Please make sure you are okay with all of the above before making your request.
Once the employee is deleted
Schedule:
A historic schedule with a deleted employee will look like this:
​

​
Attendance:
All clock in/out and break photos will be permanently deleted
Punch times belonging to a deleted employee will look like this:
​

​
Timecards:
Unapproved timecards will be deleted. Approved timecards with a deleted employee will look like this:
​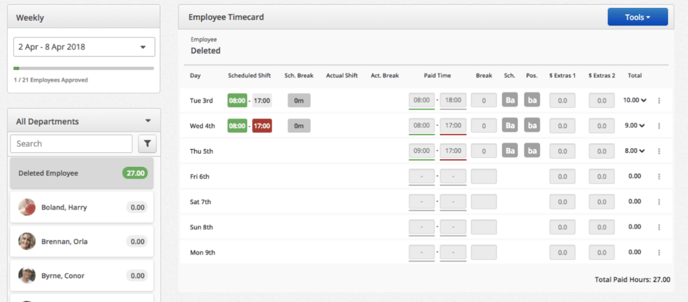 ​
Employee Issues:
Issues against a deleted employee will be completely deleted from the database. They won't be on the dashboard or in the shift log.
Issues created by Key Staff:
When creating new issues, a deleted key staff will not appear in the dropdown.
When viewing historical issues created by a deleted key staff "deleted employee" will appear in the dropdown in the web app and on the manager app.
​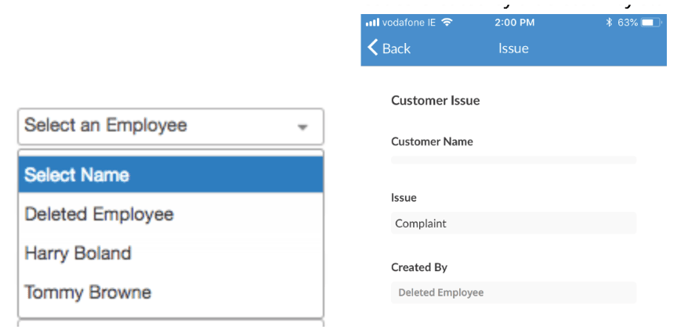 ​
Manager App:
Clock in records and schedules will look like this:
​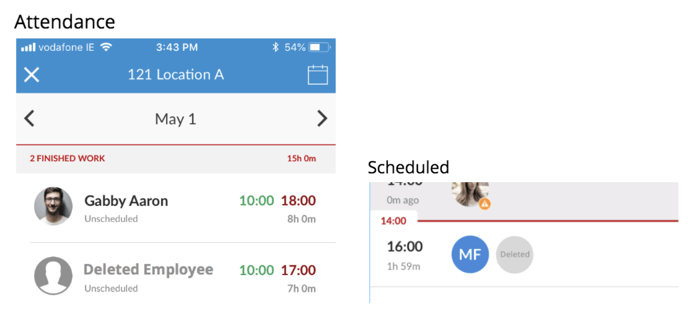 ​
Timestation Attendance:
Photos will be deleted and the name replaced with "deleted employee".
​

​
Exports:
Exports will replace employee's name with "deleted employee" anywhere the employee name appears on an export.
​

​
Audit Log:
Changes within the profile of a deleted employee will be excluded from the report.
Changes to an existing employee profile carried out by a deleted employee will be included, with "deleted employee" replacing the name of the employee.