Explaining how to Export the Training Report and detailing its layout
The Training Report can help admins keep on top of which of their employees have adequate training to carry out different tasks. It can help determine when it is necessary for new employees to undergo training.
To pull a Training Report follow these steps:
Login to Bizimply online.
Click the "Reports" icon in the tool bar
Select Employee Reports > Training.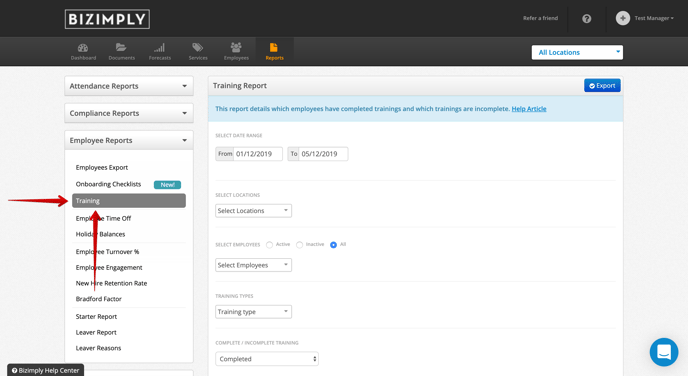 Choose Date Range, Locations, Employees, Training Type & Complete / Incomplete Training. (The drop-down menu for Training Type will display all types of training the admin has input into the system)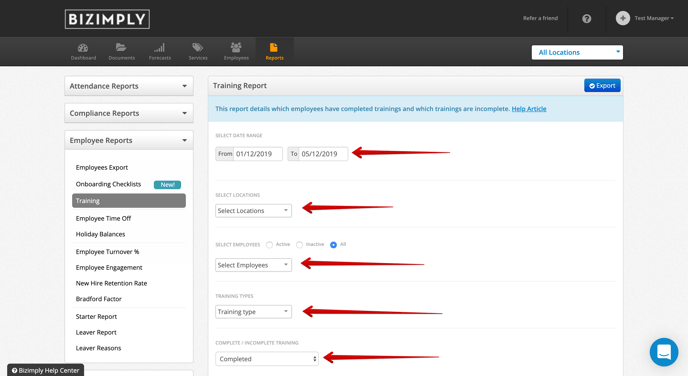 Select the "+ Export" button to Export the report.
What information will I receive with this export?
This file can only be exported as a CSV file.
In this report, the following columns appear:
Employee name
Employee No.
Location (primary work location)
Training Type (chosen from custom list)
Completed On (date that said training was finished)
Comment (any further details input into the system when the training was logged)
Sample Late / Early Report in CSV Format;
Why should I use this report?
This report can be used as an aid to find out which employees are able to carry out different tasks in your business. It can be very handy as trained staff leave the business you can clearly see when more employees need to be trained.