Learn how to create attendance settings, where to see your live attendance, and what information is relayed in the Attendance Widget on the dashboard
In this article you will find out:
How to create your attendance settings (for first-time users).
Where to see your live attendance.
What information is relayed in the Attendance Widget.
Creating Attendance Settings (First-Time Users)
In Bizimply we understand that all businesses have different rules in place with regards to attendance, managing hours worked and payroll.
You can configure your attendance settings to match the rules of your business.
NB: These settings should be worked on when you are setting up your account for the very first time. It wouldn't be recommended to change these settings once your account is already up and running. Please contact support if you do need to make changes. It takes us a minimum of 3 working days to process any Attendance Setting changes.
To do this:
Login to app.bizimply.com. Only admins can access the attendance settings.
Click on your name/email address in the top-right-hand corner and select 'Settings'.
Click on the 'Attendance' tab in the left-hand-side menu and then select 'Attendance Settings'.
Take your time selecting the answers to the questions in the form. These settings will affect how the system automatically handles employee punch times in the Timecards.
Once you are happy with your settings press 'Save'. It may take a few minutes for the settings to save.
Where you will notice these rules taking place is in the employee Timecards in the 'Attendance' module.
For example, if you have decided that an employee is to be paid by scheduled time, and they clock in earlier than they are due to start, the Timecard will be configured to only pay from when the employee was due to begin.
Where Can I Find Live Attendance?
There are many places to see live attendance within Bizimply. Please note the attendance is only live once your Timestation has internet access.
Live attendance can be observed:
On the dashboard in the attendance widget. Note also the app last active section.
​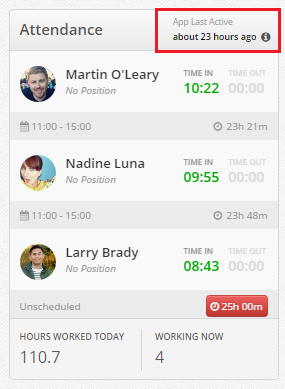 ​
In the review punch times section of the Attendance Tab.
​

​
With the Bizimply Manager's app.
​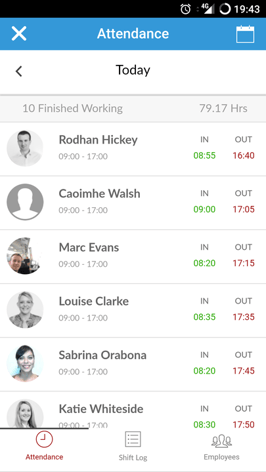 ​
The Attendance Widget
The Attendance Widget is located on your main Dashboard when you login to Bizimply.
​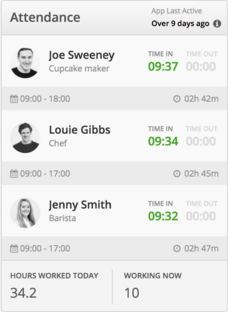 ​
This is where you can easily view:
Who is currently clocked in in your location
What shift they are working today.
How long they have been clocked in for and if someone has forgotten to clock out.
If an employee has forgotten to clock out for a shift there will be a red button beside their name showing the number of hours they have been clocked in for.
Please note if your app is showing as last active over 16 hours ago, this may mean that your Timestation is offline. Please check that your iPad is connected to a strong Wifi connection.
​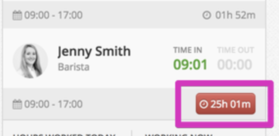 ​
To clock this employee out:
Find their name on the Attendance widget > Click on the red button showing their hours.
This will then bring you to their Review Punch Times page and to the day on which they forgot to clock out and from here you have 2 options.
A. If it is a clock in record that is recent e.g. from yesterday evening you can manually enter the time that the employee clocked out.
B. The time shown is an outstanding clock in record e.g an employee didn't clock out for their last shift 3 months ago, you can delete the clock in record from attendance and this will clock them out.
​

​
N.B. If there is a lock symbol in place of where the delete button is this means that you need to unapprove that employees timecard for that week; this will allow you to delete the record.
Once the record has been deleted you can approve the timecard again for that week.
You will now notice that the employee has disappeared from the Attendance Widget as still being clocked in for their shift.