Learn more about how to add and share employees
In this article you will find out:
How to add employees to a location.
How to add employees in bulk by CSV file import.
How to share an employee.
How to share employee roles across locations.
How to un-share an employee
How do I add employees?
*You must have the appropriate level of permissions in order to create a new employee.
Log into your account.
Ensure you are in the correct location you wish to add the staff member as the employees 'Main Location' will be set as the location you are currently in when creating their profile.
Navigate to the Employee tab.
Click on the blue add employee button.
Fill in the form for employee details. Minimum recommend:* First Name (Required)* Surname (Required)* Email* Phone number (if included in employee profile)* Shared Locations (if applicable)* Schedules
In order to get the full benefits from Bizimply, you should fill out all the information asked for within all the employee profile tabs.
You can also add employees in bulk via a CSV file. See how this is done in the next section.
Adding Employees in Bulk by CSV file Import
A quick and easy way to add employees to your Bizimply account is by uploading them in one go to your locations using a CSV file containing all your employee information.
The most important step in this process is to make sure that the employee information is in the correct format before the upload - You can do this by downloading our Sample CSV File.
Once this is downloaded, carefully enter the employee information under the correct columns in the file. Please note that the upload must be in CSV format.
When you have finished inputting your employee information you can then upload the file to your Bizimply account.
To do this:
Login to app.Bizimply.com.
Click on your name/email in the top right of the screen > Settings.
Select Import Employees from the Employees dropdown.
Select import type > File Upload.
Select your location.
Choose file and save.
The file upload may take a few minutes!
Once your upload is complete, you will be able to view all your employees along with their details by going to the Employees module in the location.
How to Share an Employee
In order to share an employee, you must include the location they are to be shared with in the shared locations section of their employee profile.
​

​
Once you have the employee shared to this location you will have to ensure that they have been selected to appear on the correct schedule in that location.
Please navigate to that location and in the Employee's tab find their new shared profile. Once you click into their shared profile you will see that it is a shortened version of a main profile with just the work details included for that location.
Here you can select which schedule for that employee to appear in that location.
​​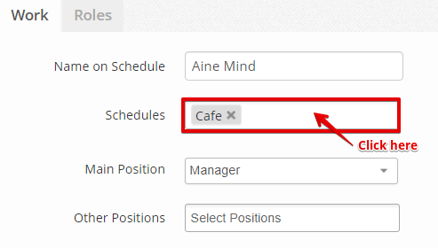 Can an employee use the same PIN in the shared location?
The shared employee can use the same PIN for both locations if they would prefer to do so. This means they can enter the same 4 digit PIN when clocking in on each Timestation in separate locations.
Sharing employee roles across shared locations
First, we must share the employee with the locations they will need access to.
Go the the main location of your employee
Go to the employee profile details tab
Click on shared locations
Add their shared locations
Hit Save
​

​
Once you have the employee shared across the correct locations, you must give them their role and share that across each location!
1. Go to the employee profile roles tab
2. Select the employee role you need to give them
3. Hit Save
4. Answer "Yes" to the popover asking you if you would like to share this role across all locations.
​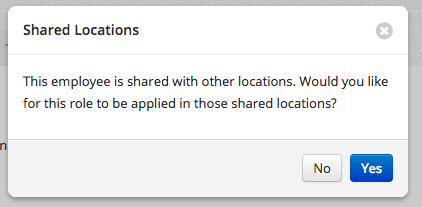 ​
Good job! You have now given your employee a role in their main location and each of their shared locations.
Your employee will receive an email from Bizimply informing them of their role(s) in each location.
Tip: If this employee has a different role that does not apply in all locations, you must go to their profile in that location, change their role, and answer "No" to the popover asking you if you would like to share this role across all locations.
How do I un-share an employee from a shared location
Any manager with the permission to edit employee profiles can un-share an employee from a shared location.
1. Go to the employee shared location
2. Hit the "un-share" button in the top right hand corner

That's it!